Creative Technology Week 2022 / 2023
Our next national event will be held during Creative Technology Week, a national celebration, launched by Kinia, which will take place from 20th March 2023 – 26th March 2023.
This will be the first nationally recognised celebration of Creative Technology here in Ireland. During this week we will showcase the work of young people that have participated in Kinia Programmes as part of Creative Tech Fest and Tech Féile.
Following on from our continued success of Creative Tech Fest since 2013 and Tech Féile since 2018, we are excited to restructure our event next year.
Creative Tech Fest & Tech Féile are Kinia's annual national showcase events for young people. 
They provide an opportunity for young people to broaden their skills and aspirations, and recognise them for their creative abilities in Digital Media, Science, Technology, Engineering, Arts and Maths. In addition to establishing new possibilities, it envisages new outlooks for those participating in the Kinia programmes to further develop their skills, and explore new elements of creativity to enhance their existing skills in STEAM and Digital Media. 
This year Creative Tech Fest & Tech Féile will comprise of an engaging Programme of Events from October 2022 to March 2023, including our Kinia Robot Competition, Music Development opportunities, showcasing and live concert & broadcast.
The Kinia approach is strongly grounded in the belief that learning happens everywhere – in formal and non-formal learning environments. We have a national, bi-lingual (English and Irish) reach across Ireland and, with the support of our partners (including Google, ESB, Department of Tourism, Culture, Arts, Gaeltacht, Sport and Media, Creative Ireland and Science Foundation Ireland) have provided training, support and professional development to over 20,000 teachers and youth workers over the last three years. Our non-profit ethos prioritises educators who work in DEIS schools, School Completion Programme, Rural and Gaeltacht areas, TUSLA services to reach disadvantaged and marginalised young people.

What to expect if I register for Tech Féile or Creative TechFest?
Once you have registered for one of our events ensure you keep an eye out for our deliveries which will be sent to you in 3 packages.
The first kit will be delivered in October and will include the Kinia Energy Kit designed to introduce you to renewable technology concepts and prototype design. Lesson plans, background knowledge and creative application ideas will be included.
The second kit delivered in December will kick off the festive season with some creative STEAM learning – the Kinia Paper Circuit Kit. Design simple or complex circuits to light up a Christmas themed card or challenge students to sustainably design a festive jumper with a built in circuit.
The final kit which will be delivered to you will be the Kinia Robot Competition, which will include X robots. We challenge you to build these robots and to document your journey before participating in our live Kinia Robot Competition which will be taking place at Tech Féile and Creative Tech Fest during the Creative Technology Week.
This year you will receive Robot kits and be challenged to build and prepare for Kinia's national Robot Wars 2023. Your robots will be competing in several separate stages, and all the details on the stages will be released in our Robot Kit which you will get in January 2023.
You are tasked with building the robot with young people and preparing it for the different stages of the competition. Your group or class willhave to consider the strengths and weaknesses of each robot. This will test their ability to plan effectively and be as prepared as possible.
Don't worry in January you will receive equipment, Kinia's Robot Competition ruleset, criteria and the marking scheme.
Our events Creative Tech Fest and Tech Féile is for teachers, youth workers, and young people aged between 12 -18 years, who are part of the Kinia network.
Dedicated Support Officer
As part of this year's event you will be assigned to a dedicated support officer to support you on the journey.
As always we enjoy following the journey of groups across the country and will be selecting a handful of groups to document their journeys to Creative Tech Fest & Tech Féile 2023. If you have a unique project that you would like us to follow please ensure to let your dedicated support officer know who will be sure to let our production team know.
We are now inviting you to develop and submit your creative technology project in the area of STEAM, Digital Media or Computer Science as part of this year's event which will need to be submitted by 30th February 2023.
Watch the Live Stream from Tech Féile 2022, and view the categories for this year's events below.
2022 / 2023 Award Categories:
Category 1: Digital Creativity Awards:
1A. Video Production – Mobile Video, Music Video, Documentary, Fiction create your own visual story!
1B. Audio Production – Podcast, music, spoken word, radio documentary let's have a listen!
1C. Photography/Design – Photoshop, Canva, your phone camera, DSLR – express yourself!
Category 2: STEAM Awards:
2A. STEAM – Electronics, Re -Design a STEAM Kit Build, craft something new
2B. Computer Science – Micro:bit, Makey Makey, Scratch or coding, gaming …
2C. Emerging Technologies- AR, VR, 3D Printing and more whatever else is emerging!
Category 3: Kinia People Awards
3A. Organisation of the Year – This special award celebrates the range of creative collaborations among our Volunteer Clubs and Groups. You know who you are! Volunteers across the network dedicate their time and energy to creating and makingwith purpose through the TechSpace programme. Let's give them the recognition they deserve.
3B. Kinia Educator the Year – This year we put an open call out to nominate educators and youth workers working with young people to inspire them to design and create using technology in innovative ways. If you know a youth worker, volunteer, social worker, or educator that deserves to be named, watch this space!
3C. Kinia TechSpacer of the Year – This year we put an open call out to staff and volunteers in youth settings to submit an application for young people within their group to win 2021's Creator of the Year Award! If you are working with a young person that has inspired you, then be sure to keep an eye out for this award category!
Do you have young people who love performing or are they part of a band?
Would they love to be given the opportunity to record a music video?
We will be giving the opportunity to 5 musicians or youth bands to record a music video which will be part of the concert at our events and also published on our spotify and youtube platforms. If you would like a young person or group you know to be in with a chance of being chosen, ensure to let your dedicated support officer know who will be sure to let our production team know.
Boost your chance to win by documenting your learning journey…
This year we would like to continue to celebrate how Kinia has supported you and your young people to engage with technology. We are asking that you submit a presentation in video format, alongside your project, so that we can understand your journey as well as all the work and creativity that goes into your projects and the positive impact this has had for all those involved.
The video presentation should include a demonstration of the project and a brief explanation of why and how you created it.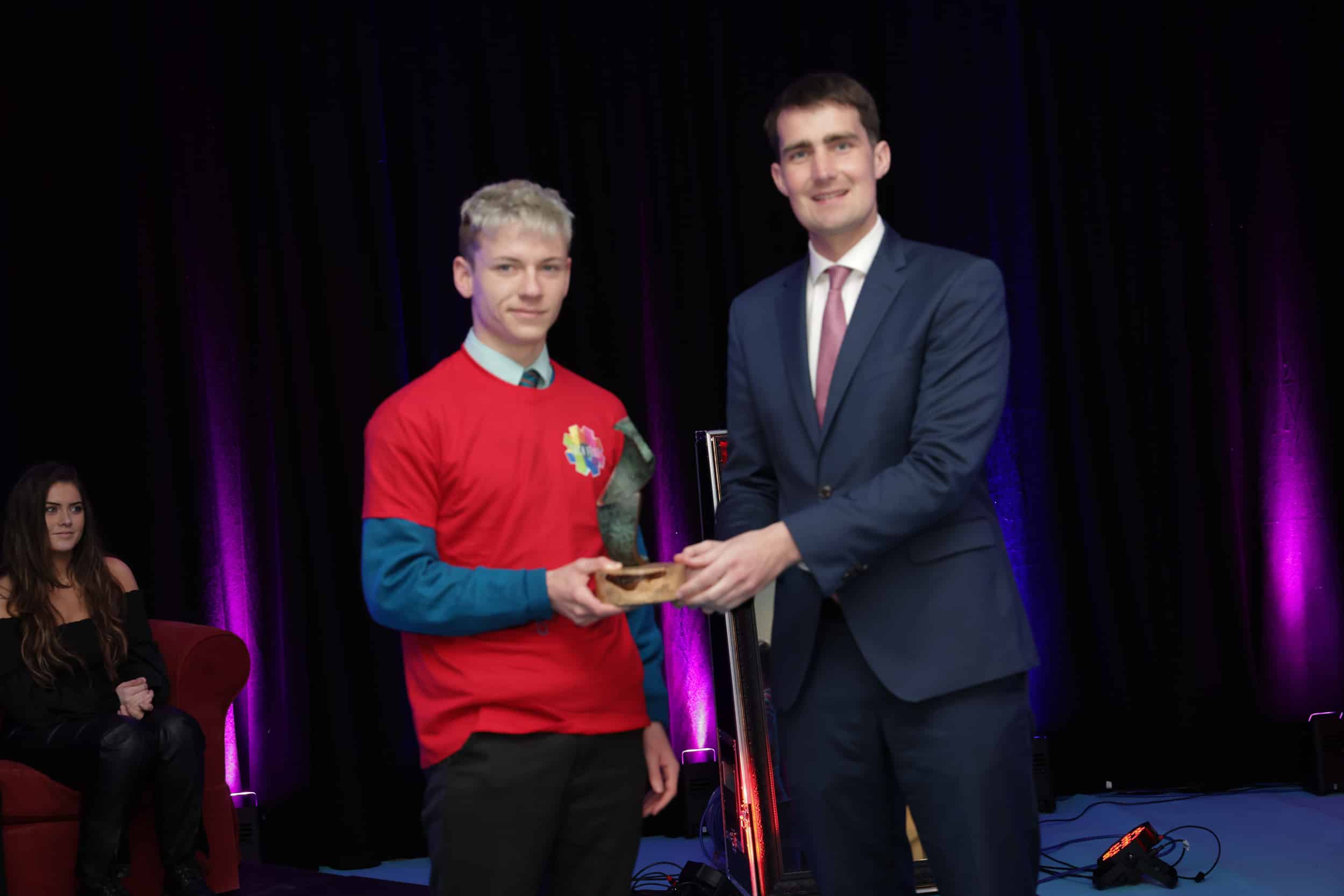 The figures below are a reflection of our national reach:
Children &
Young People
190,000
Supported Schools &
Youth Centres
4,050
Creative Tech Fest 2023 Gallery
We are delighted to announce the launch of Guth '23 Kinia youth voices album this Creative Technology Week. The album brings together voices from across the country.
Listen on spotify: https://zurl.co/pu2a